Ultimate Fasteners :
Sympac Case Study
"The core Sympac Retail Management system, together with Sympac's Back Office suite, covers all the requirements for our business to operate smoothly and efficiently."
Customer Profile:
With Sympac since May 2016
16 users across 2 locations
Shepparton & Wodonga, Vic.
Buying groups: CSS
Established 2008
Why Sympac is our choice:
Streamlined preparation and financial reporting for accountants
Puts us in sync with other CSS stores
The End of Month procedures are much easier
Ultimate Fasteners: the full story
Our customer
With more than 10 years of service to the local community, Ultimate Fasteners is a specialist supplier of industrial fasteners, fixings, abrasives, and tools for the engineering and construction trades throughout the Goulburn Valley.
Owners Dean Jones & Mark Shanahan and staff have combined industry experience of over fifty years at their Shepparton location, and more than forty years at the Wodonga branch.
With locations at both sides of the Goulburn Valley, Ultimate Fasteners is well positioned to service the requirements of local industries, which are predominantly focused around fruit growing, dairying and agriculture.
Active Community Involvement
Ultimate Fasteners are heavily involved in supporting their locals — with a commitment to a huge range of local promotional activities and events, including district Field Days, and sponsorship of the local football and netball club.
They even arranged their own "Trade Show" event recently to celebrate their 10 year business anniversary — with the help of their network of suppliers.
These fantastic community events are supported enthusiastically by the local businesses and trades who work with, and rely on, Ultimate Fasteners every day to get their jobs done.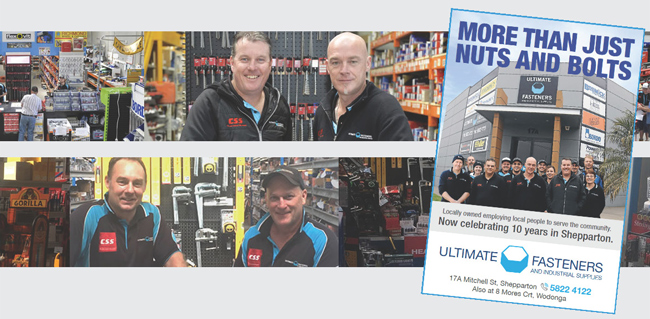 How did Ultimate Fasteners find out about Sympac?
"Sympac was actually recommended to us by another Sympac user," says Dean.
"This was important to us because it meant that straight up we knew that Sympac was already being used in-store by operations like ours — and we didn't have to reinvent the wheel to research what we needed."
Additionally, Dean and Mark wanted to be sure that they were achieving some uniformity with other CSS stores who were Sympac users, and that they could be confident that this was a system that was going to meet their business needs.
Streamlined reporting for accountants
One of the major benefits that's been experienced by Ultimate Fasteners is that Sympac has made their lives easier by making it very simple to easily generate all the right reports needed by the accountants.
"All of the accounts preparation admin and financial reporting work has been completely streamlined with Sympac," explains Dean.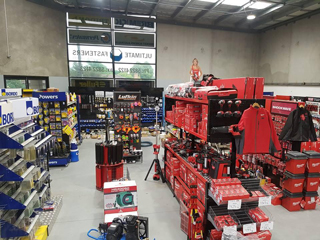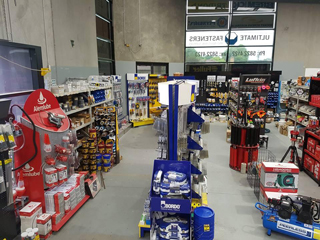 How does Sympac compare to other systems
"It's chalk and cheese!" laughs Dean.
"The old system was DOS based, so I think that's self explanatory!"
End of Month is a breeze
Any store that's come from a complex End of Month business process knows what a relief it is for End of Month to just be easy.
Future plans for Ultimate
A third store is soon to be launched, which is exciting news for the team.
At Sympac we're proud to be working with Ultimate Fasteners and supporting them with a system that will continue to help them to grow as they support their community.