SYM-PAC's new feature : Ruralco EDI Integration
.. streamlined integration between your SYM-PAC system & Ruralco
Ruralco EDI Integration
Purchase Orders > Product Matching
CRT stores currently create purchase orders online using the Ruralco website.
The store then downloads the created order in XML format to input into the SYM-PAC software.
With no matching process for products, each order line must be matched if not previously done to a product in your point of sale system.
Procedure > Ruralco EDI Program
The program that downloads Orders, allows a product match and imports them into a Purchase Order is available from the menu here:
Utilities, Help and Support | Electronic | CRT-Ruralco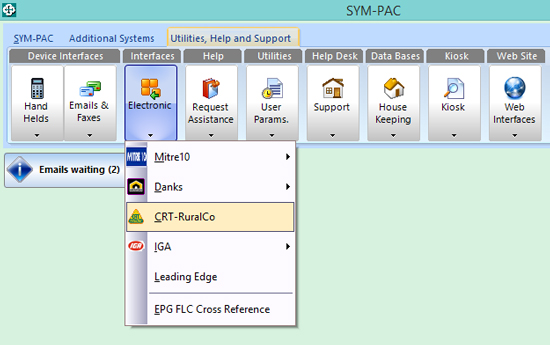 Procedure > Ruralco EDI Program
The Ruralco EDI program currently has 3 Tabs:
Import Orders
Options
Preview

Procedure > Import Order
The Import Orders screen is where you download any available orders from the Ruralco site. It's also where you're able to preview the order in order to import it. You also have the option to remove any downloaded orders that you do not want to import.
In order to Preview an Order and Import it, simply select the order you wish and click the "Preview" button.
The order you have selected, if it is a valid file, will be displayed in the "Preview" Tab.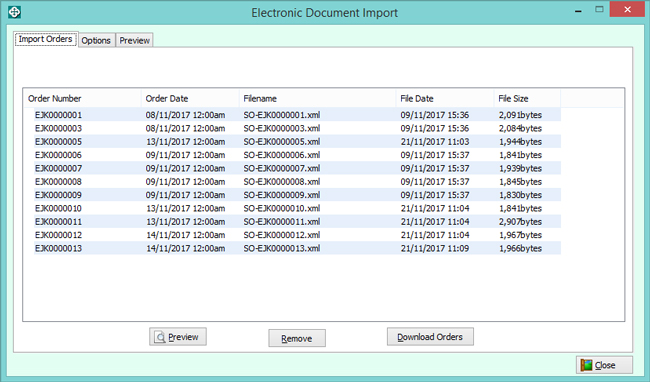 Procedure > Preview
Once you have selected an order and clicked "Preview" from the "Import Orders" tab it will be displayed here.
The Ruralco Order Number is not used for the import. A new SYM-PAC generated Purchase Order Number is used.

Procedure > Supplier Code
The Supplier code is determined in the supplier file in the Alternate Code (or Group Code) field as shown below. The store's Supplier Code and Creditor codes and names are then displayed.
If the Supplier / Creditor is not found the Order will be created with the codes as displayed. These can be updated once the Purchase Order has been created.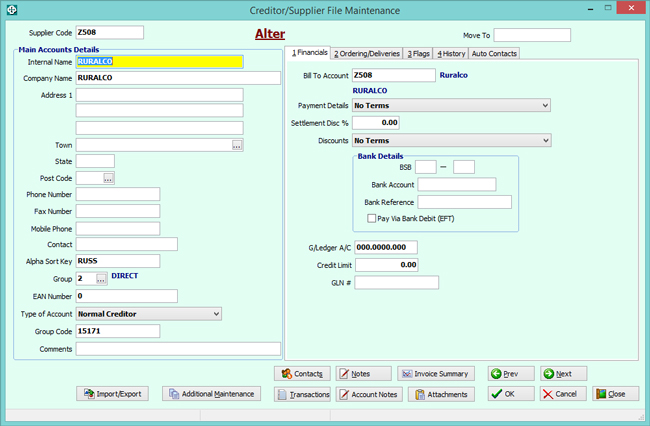 Procedure > Supplier Code
All products on the order will be displayed and the system will attempt to determine the SYM-PAC Code by matching against the supplied data in the EDI order.
Any products that are found will have the SYM-PAC Code displayed.
Any Products that are not found will have the SYM-PAC Code left blank.
All products MUST have a SYM-PAC Product matched to them.
Once all the products have been matched the order can be created and all of the products will now have the Ruralco Code assigned to them.
At this time the import file will be removed, and you'll also be prompted to print the newly created purchase order from SYM-PAC.
For help in using this new feature, please contact Client Services on 1300 361 732.
Keep up to date ::
Signup to the
SYM-talk newsletter today.