Group Invoicing
Track goods not invoiced
Group Invoicing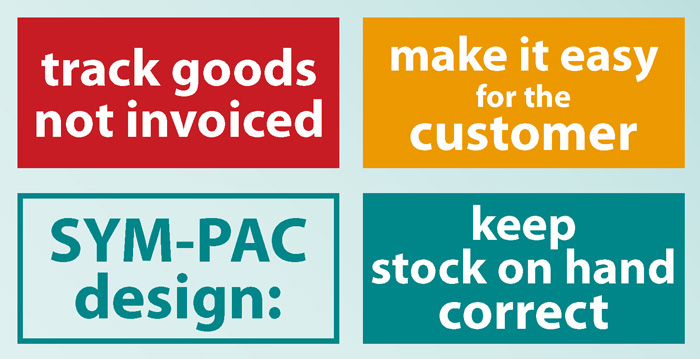 Stores with large account customers know that you have *some* customers who need to pickup lots of 'little' products — a quick item here, and another pickup there — while they're getting on with their work.
These guys don't want — or need — an individual invoice for every single item they rush in and grab from you.
Good examples of this type of customer are government departments, or local councils. Often they will request that you issue an order number to a certain value… and then they'll request just get one invoice (but pick up many things) up to an agreed dollar value.
But this creates a business problem
If you put all the items on a sales order, or on a quotation, etc. — these goods are then *not* invoiced out until that dollar value is reached.
This creates a situation where your Stock On Hand figure is incorrect — because you have goods that have left the store, but have not been invoiced. This affects your ability to use accurate ordering procedures in your store as your Stock On Hand will not be correct while this is going on.
Best business practice is that all goods must be booked out (via delivery docket) when they leave the premises.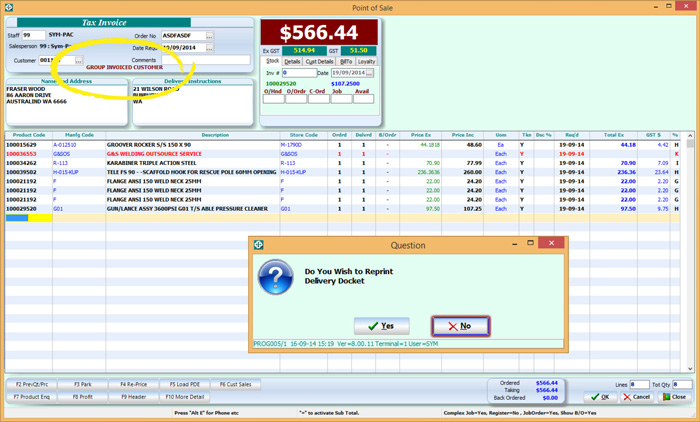 SYM-PAC's solution: Customer Group Invoicing
SYM-PAC's new Customer Group Invoicing function allows you to book goods out whenever they leave, creating a delivery docket transaction in the system.
Then at the end of the determined period, you can release all goods to one single invoice that references each delivery docket.
Your Stock On Hand is up to date!
This process allows your Stock On Hand to remain up to date and to remain true. The items are held in GDNYC (Goods Delivered Not Yet Charged) and so are moved out of Stock On Hand, pending their Group Invoice.
This means that your Suggested Ordering processes will remain accurate and reliable.
Handled within Point of Sale
When a Group Invoicing customer is at the Point of Sale counter, your staff will have a full selection of Group Invoicing options to choose from.
Previous Group Invoices are easily searched using F4 for Document Enquiry within Point of Sale, and Group Invoices as well as Delivery Dockets are easily reprinted as required.
Handled within the Customer/Debtor's Account
A simple tick in File Maintenance is all it takes to set up an account customer with Group Invoicing.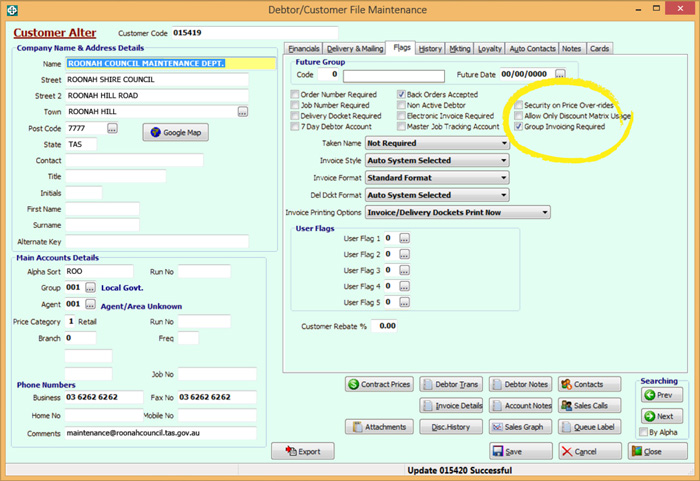 Management Reporting
A comprehensive Group Invoice Analysis report allows you to check the details whenever you need to.
Group Invoices are released prior to End Of Month via Point of Sale, and you can update the order number, view the document, and review the GP% and GP$ prior to release.
Group Invoices are specially designed to show all delivery dockets for items that form part of the Group Invoice.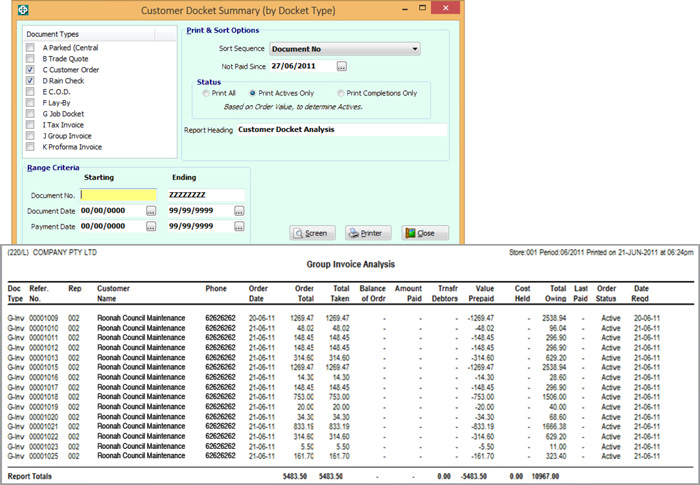 General Ledger Journals
Each Group Invoice 'document' will create an individual Adjustment Journal.
Products that are 'delivered' are put into a holding bucket called 'Goods Delivered Not Yet Charged' – and removed from stock – until they are officially 'released' from the store's stock and charged to the customer on the Group Invoice.
'Goods Delivered Not Yet Charged' is credited when the Group Invoice is completed.
This means that your Stock On Hand figure remains correct throughout this purchasing process.
Simple Batch Release — whenever you need to
You can choose to release Group Invoices as a regular procedure at End Of Month — or alternatively on an individual basis whenever your customer requires it.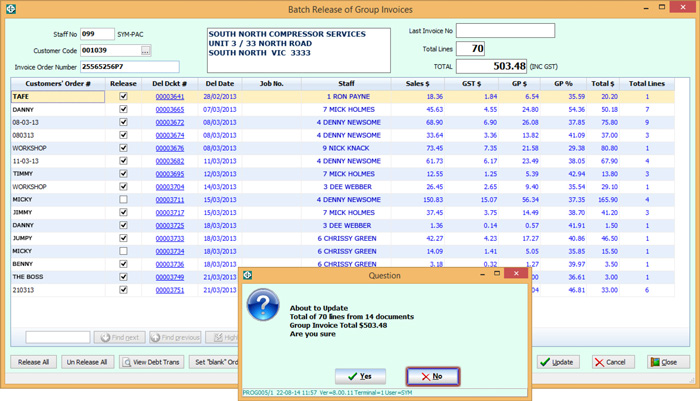 Group Invoice with full details
You can see full details on every Group Invoice — every product for every Delivery Note, by date, for each Group Invoice for your customer
Your customer might have one Group Invoice setup for a particular order number or job…
Or they may run many different Group Invoices for separate jobs…
Or you can turn Group Invoicing on for a customer for a special project — and then turn it off later when it's no longer required
SYM-PAC has designed this with you and your trade customers in mind!
:: Industrial & Construction
Keep up to date ::
Signup to the
SYM-talk newsletter today.