SYM-PAC how to : Use Batch Interest Update to calculate Debtor Interest Charges
Easily calculate Interest Charges for Debtors with monies owing
How to use SYM-PAC's Batch Interest Update feature to calculate Debtor Interest Charges
Use the Batch Interest Update feature to Calculate interest charges for Debtors with monies owing in Selected Financial Periods and to access Program, Customer, Debtors, Interest Calculation settings.
> Batch Interest Option Menu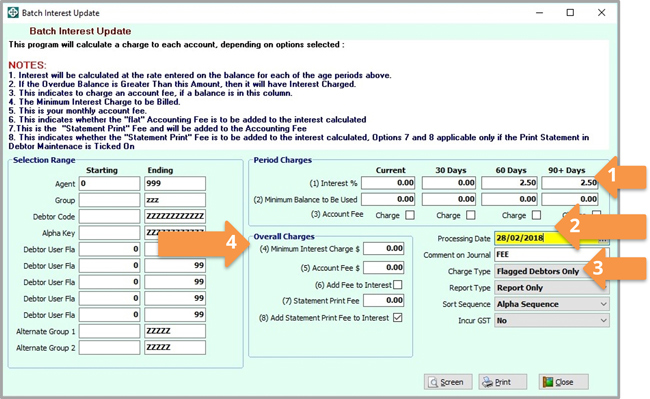 > Account Option Settings Menu
This is accessed within Debtor Alter Menu.
> Batch Interest Options
1: Interest
Set % to be Calculated on amount owing
2: Processing Date
Set to Previous End of Month Date for Interest to be Calculated as at Selected Date
3: first > Charge Type Options
Flagged Debtors Only
All Debtors
3: second > Report Type Options
Report Only
Update Charging Fee
Prompt for Each Debtor
4: Overall Charges
Minimum Interest Charge, Select Minimum $ Amount if Required
Account Fee, Select Dollar Amount if Account Fee Required
Add Fee to Interest, select if Fee is to be added to Interest Calculated
Statement Print Fee, select $ Amount to be Charged for Statements that are Posted to Customers
Add Statement Print Fee to Interest, select if Print Fee is to be added to interest
5: Interest to Be Calculated
Select to Flag Debtors, use this Option for Running Interest Calculation for Flagged Debtors
> Interest Calculation Reports
Report Showing Amount to be Charged:

Report Showing Amount Charged:

Give it a go today!
For more information on setting up the options for the Discount Matrix in your SYM-PAC system, contact Client Services on 1300 361 732.