Working smarter, not harder : SYM-PAC's Mitre 10 User Group, Feb '16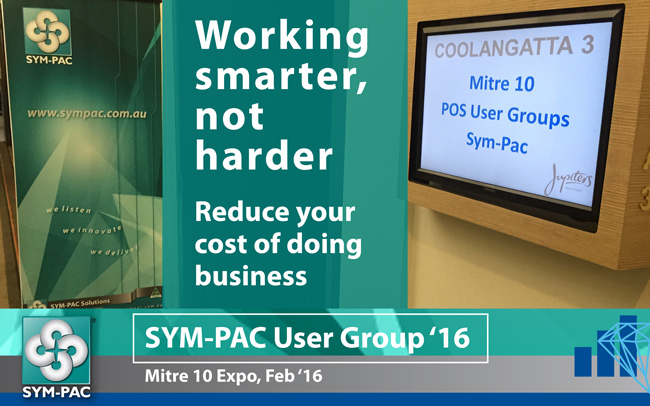 Once again, another great User Group event with our Mitre 10 user community.
This year we took it back to basics and delivered a User Group with a very strong focus on making the most of your SYM-PAC system — using features and functionality that is in your system RIGHT NOW.
Mark Schmutter, General Manager, opened the day with a very clear message that this time our focus was lifting everyone's skills to using their SYM-PAC system to the fullest to benefit their business.
Mitre 10 & Mitrecom Integration Overview
The works: we talked it through.
What information SYM-PAC integrates with Mitre 10, in detail
Revamped Electronic Invoices loading
Electronic Agency Invoices
Mighty Rewards, including Exclusive Pricing Labels and Sign Up Kiosk integration
Combo Offers
SYM-PAC Trade Online
We reviewed SYM-PAC's Trade Online module, including:
Back Office Functionality
Customer Account Payments Online
Full tracking of Quotations through to order and invoice
How to help your trade customers win business and keep them coming back
Contract Price Lists
The Remote Rep functionality
SYM-PAC's Customer Dashboard
What is the Customer Dashboard and how does it work, and how does it benefit you.
DIFOT Reporting — Delivery In Full and On Time
How your SYM-PAC system delivers DIFOT functionality for your business
ETA Exceptions
Estimated Time of Arrival — a reminder of why you care about this and how SYM-PAC helps you to achieve this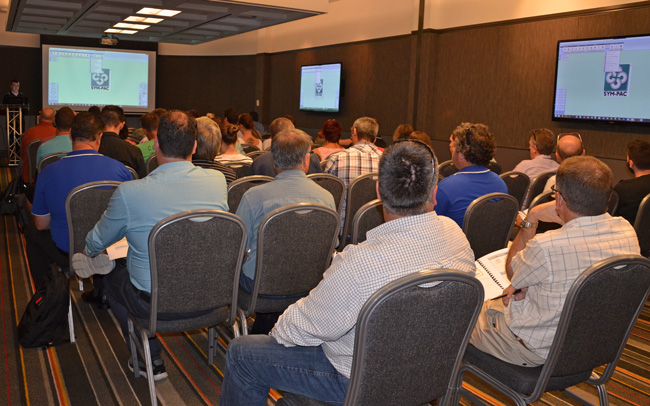 SYM-PAC Client Services Presentation
Following lunch, SYM-PAC's Client Services Manager Glenn Watkinson delivered a presentation from the Client Services team — the first time we've done this and a huge hit.
Glenn provided a huge insight into what goes on behind the scenes at the Help Desk, 363 days per year.
Highlights included:
Who are you talking to when you ring Client Services?
Staff profiles for the Client Services team members and an overview of who's who
Monitoring and Stats — an overview of the live Client Monitoring Board which provides us with a live overview of calls coming in and their status
A taste of some our regular statistics — including average weekday inbound calls, average monthly calls, and how many calls came in for the last calendar year.
Glenn dicussed call diagnosis, which is how the nature of the call is identified, tracked and measured, as well as other key metrics for us, including:
Average Call Resolution per day
How many calls are classified as "training calls" — or "how do I?" calls
And a here's a fun fact for those who have been around since the introduction of GST in the year 2000. As at February 2016, the record for the highest number of incoming calls within a 24 hour period remains 1st of July, 2000 — a hard night to forget with the transition to GST overnight!
The importance of a clear backup & recovery process was also discussed in depth, together with virus protection software. For more information on this critical area, refer to our recent article here:
http://sympac.com.au/alarm-on-locked-up-backed-up/
Glenn also covered ongoing work towards improving communication from the Client Services area to stores, discussing our commitment to the stores and some of the ways we're looking at getting updates and communication to stores faster and smarter.
Inventory Discussion Workshop
"What we're going to do in this session, is make Inventory SMARTER, not harder!"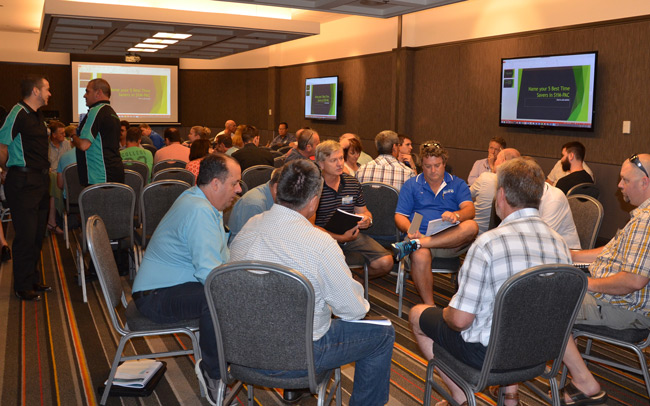 George lead a fantastic breakout session to get everyone moving and to focus on two core discussions:
Top 5 Time Savers — what are the best time savers in SYM-PAC that you use in your business?
Suggested Ordering
— what's the best way to introduce Suggested Ordering into your business
— what results can it deliver
— how to run Suggested Ordering on an ongoing basis and make it part of your business procedures
Mark Schmutter continued the afternoon session with:
Methods of "System Based" Ordering — what are they and what's the difference between Suggested Ordering, Stock Replenishment and Auto Replenishment anyway?
Table Magic, including an important exercise on Margins vs Discounts
Comparison Report overview, and finally,
Hints & tips
… and in conclusion, our usual Open Forum.
Making a difference
We've received some heartfelt feedback from quite a few stores and we thank you all for not only attending but participating so strongly in the event.
It makes a huge difference to everyone attending to hear from other stores, understand the challenges they face and share ideas about how to overcome common hurdles in daily store life.