SYM-PAC at the HBT National Conference : May '18
Proud to be supporting strong independents at HBT : Adelaide, May '18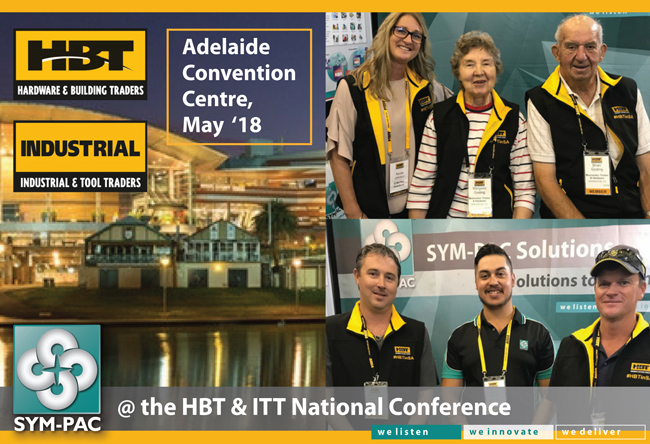 SYM-PAC continues to enjoy its growing relationship with HBT and its members — we had a wonderful national conference in May with the Hardware & Building Traders group at the Adelaide Convention Centre.
From May 2–4, Nicky Johnson, Business Development team & Luke Gilbert, new Business Development Manager, with CEO Mark Schmutter, were witness to a well organised conference and trade show, meeting many prospective clients and catching up with current users and friends.
On Day 1, we were given the fantastic opportunity to present information to the attendees on "how to load a promotion into the system from a spreadsheet". Thanks to HBT Group Buying Manager, Steve Fetileh — this was a great chance for us to talk in detail about how some of our important features work to help stores make the most of their SYM-PAC systems.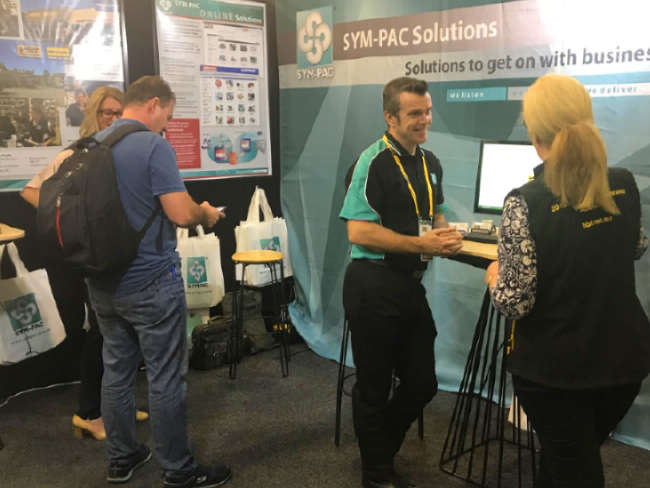 Above: Nicky Johnson, Business Development Team (far left) with Mark Schmutter, CEO, talking with visitors to SYM-PAC's stand
In the afternoon we helped celebrate HBT member winners whilst listening to newly appointed CEO, Gregory Benstead, address the room and provide fresh analysis on the industry.
Highlight of a great Day 1 was retired, multiple Olympic medallist and world champion cyclist — Anna Meares. Anna drew reference to resilience and hard work paying off. She aligned this with independent business owners and told a wonderful story of a "no pain, no gain" attitude.
Days 2 & 3 were all about the Trade Show, as "stall 169" showcased our renowned SYM-PAC system. The traffic and engagement were great from all members, and the support from HBT for suppliers at this event was well apparent.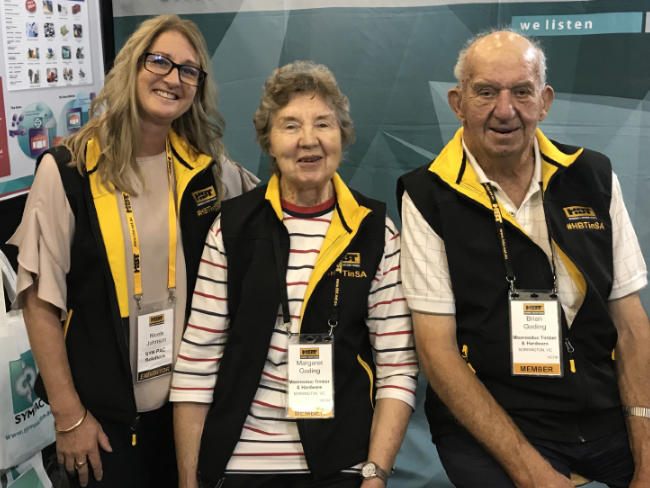 Above: Nicky (left) with Margaret & Brian Goding of Moorooduc Timber & Hardware
Another great HBT conference for us at SYM-PAC, and we welcome further supporting this exciting buying group into 2019. There is so much promise and potential for members who consider our business management system — and the positive feedback we got from the community of current clients was very satisfying for us to take on board.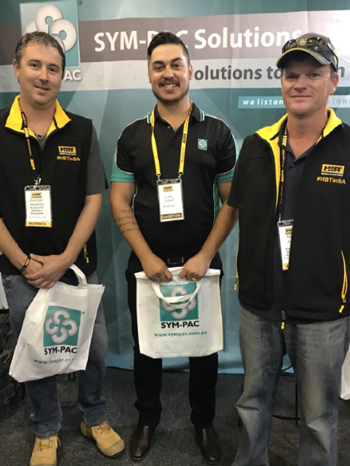 Above: Brendan Hawking of Rushworth Hardware Emporium (left) with Luke Gilbert, SYM-PAC Business Development Manager (middle), and colleague Matt from Rushworth (right)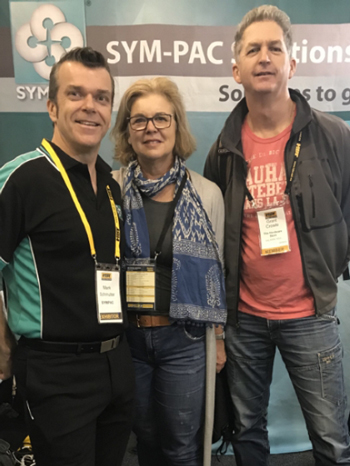 Above: Mark (left) with Megan & Grant Crowle of The Hardware Store
Talk to us today!
We know and understand your business needs. We know you need to get things done faster, smarter and in more streamlined ways — with the power to access your trading data easily & quickly, and make critical decisions efficiently based on what's actually going on in your store.
Call us on 1800 796 722 and let's see how a SYM-PAC solution can take your business to the next level.