Single Touch Payroll update : June '18
With SYM-PAC Quick Start with Ozedi
Single Touch Payroll update : June '18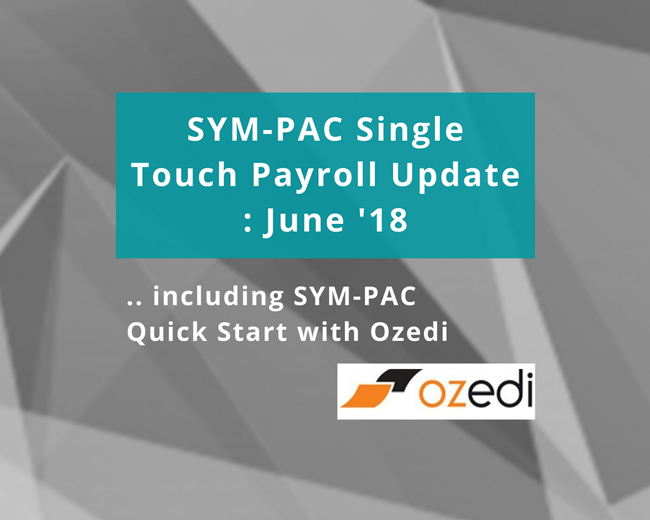 SYM-PAC is progressing through the final stages of testing with the ATO and selected customers, and we are on track for 1st of July 2018.
By now you would have your deductions and allowance types configured in SYM-PAC, as we described April's newsletter. If you require a refresher on how to do this please call our friendly Help Desk.
SYM-PAC will be using OzEDI as the gateway provider to be the conduit to communicate Single Touch Payroll lodgements with the ATO. To use this feature, you will need to sign up with the OzEDI gateway, this can be done in as little as 4 easy steps, as outlined in the Quick Start Guide below:
SYM-PAC QUICK START WITH OZEDI

This Quick Start guide is designed to help make the self-registration process as smooth as possible. The ATO insists that we validate users at Ozedi as part of their security requirements – so there is a little extra work – but it's for your protection.
Follow the steps below and if you want more information, refer to the Registration User Guide.
What you do next:
1 : Do this step once only. Create a User and Account at Ozedi by clicking on this link below; then fill out the user details (Important – the username and email address MUST match!), activate your User in the email you will receive (security requirement), and add your Account details when requested.
https://dashboard-stp.ozedi.com.au/#/register?link=115121109112-R
(NB: Ensure any pop-up blocking software is disabled, as it may interfere with the webpage loading process)
2 : Now you are set up with a User and an Account, click on the standard Ozedi Registration link below, sign in with your User Name and password; your account will show here – click on your account and the Account Management screen displays. Use this link from now on.
https://dashboard-stp.ozedi.com.au/#/
3 : Purchase a block of data using the Buy Data tab – this will take you to PayPal – you can use a PayPal account or a credit card.
4 : Add a Client to your account, along with at least one ABN and one Contact that has a valid email address set to 'Notification' if you receive ATO responses by email. Your Client ID (8-digits) is required for uploads to Ozedi.
5 : You are ready to upload STP submissions to the ATO from your SYM-PAC payroll system.
Have any problems registering at Ozedi? Contact us.
NB all queries regarding your STP data and ATO responses must be addressed to SYM-PAC.
Contact us: Email: support@ozedi.com.au
Web: www.ozedi.com.au
Once you have completed these steps with the OzEDI and ensured that your deduction and allowances types are configured you are ready to submit your next pay run.
SYM-PAC is still in the final stages of the process with the ATO, once approval has been given we will provide a software update prior to the end of June.
Pricing for data transmission via OzEDI effective on 20th of May 2018 is outlined below, as a guide.

Talk to us today.
We know and understand your business needs. We know you need to get things done faster, smarter and in more streamlined ways — with the power to access your trading data easily & quickly, and make critical decisions efficiently based on what's actually going on in your store.
Call us on 1800 796 722 and let's see how a SYM-PAC solution can take your business to the next level.
Keep up to date ::
Signup to the
SYM-talk newsletter today.