Marty of Smith Bros. Longreach on fundraising Oxfam Trailwalker : June '18
SYM-PAC proud sponsors of Marty Smith, Oxfam Trailwalker
We wanted to share this great story with our client community. Long time customer Marty Smith of the Smith Bros. Longreach group of stores, is taking on an amazing effort of walking non-stop for 100km across the Brisbane Hinterland to raise money for Oxfam.
The event is not far away now and the team have been training hard — that's Marty on the right with the black cap on. The others are old mates, Cameron Wright and Brad Neven from Yeppoon and Tim Collard from Rockhampton.
"We start together as a team of 4 and have 48 hours to finish together as a team of 4. We are aiming for 24 hours, with limited rest stops, just straight through — but we'll be happy just to finish!" explains Marty.
"We've all been training hard, walking up to 14 hours per week. However, it is in the mountains so that will be an extra challenge for me coming from Longreach in Outback Queensland where the landscape is so flat!" he laughs.
"But as they say 'if it was easy then everyone would be doing it'. There will be considerable pain involved but it is for a good cause."
You can support Marty and the team for a great cause. To donate please click on the link to Oxfam : https://trailwalker.oxfam.org.au/my/team/29509 — and it's a simple credit card transaction.
Thank you very much for your support!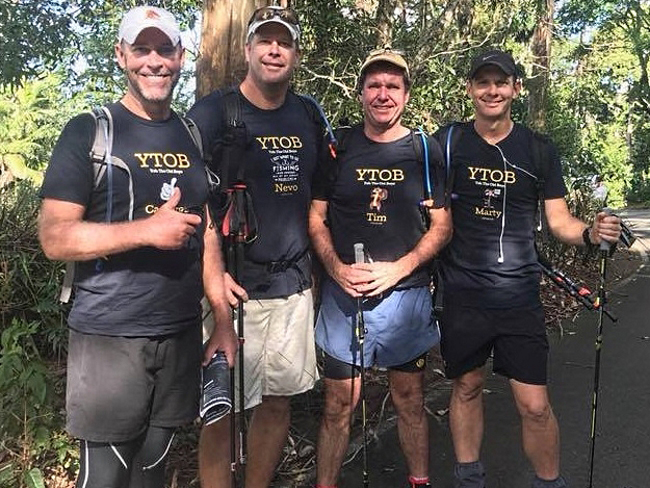 Go Marty and team!
Talk to us today.
We know and understand your business needs. We know you need to get things done faster, smarter and in more streamlined ways — with the power to access your trading data easily & quickly, and make critical decisions efficiently based on what's actually going on in your store.
Call us on 1800 796 722 and let's see how a SYM-PAC solution can take your business to the next level.