Hardware Australia : the Evolution of Hardware : March '19
National Industry Luncheon & Rising Stars 2019
Once again we connected with the timber and hardware community at the Hardware Australia's National Industry Luncheon event. SYM-PAC is proud to be a long time sponsor of the Hardware Australia and to be part of this event — which lets us show our support for the industry.

The theme for this year was the Evolution of Hardware, with Special Guest Speaker Tim Reardon, Chief Economist of the HIA. You can catch up on Tim's insights on the current economic climate for the industry, including the latest economic forecasts and trends, at Hardware Australia's members' portal.
The celebration of Hardware Australia's 2019 Rising Stars was held at the MCG — and we have to say that it's always exciting to see our logo up on the big screen at the ground!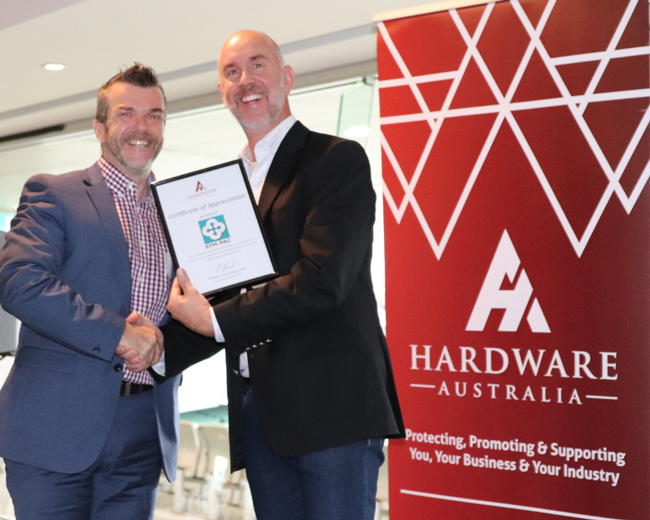 Above: Mark Schmutter, SYM-PAC CEO (left) with Paul Stewart, new Chair of Hardware Australia
Always a buzz to see our logo up on the big screen at the 'G!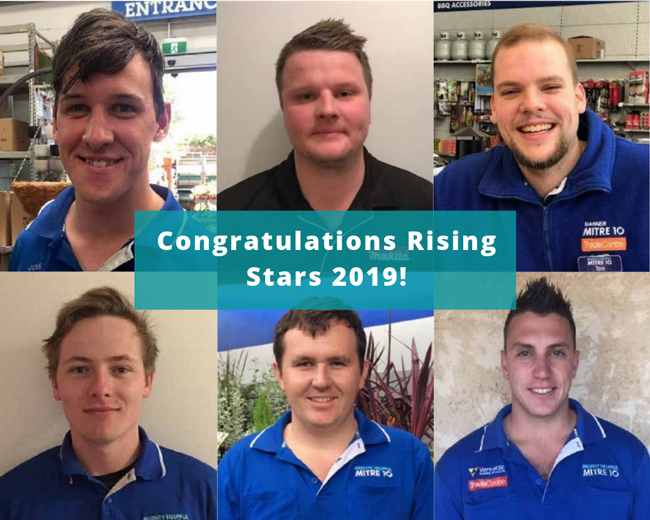 We congratulate all the Industry Rising Star Representatives from around the country, including those from SYM-PAC user stores!
Josh Kenshole — Marketing/Sales Manager, Diamond Valley Mitre 10
Josh Holzheimer — Selections Consultant, Petrie's Mitre 10 Bathurst
Branden Grady — Store Manager, Sunshine Mitre 10 Gympie
Damien Stanoevski — Trade & Warehouse Manager, Versatile Mitre 10
Tom Roenfeldt — Assistant Hardware Manager, Banner Mitre 10 Norwood
Fraser Moore — SA Sales Representative, Makita
Well done to Hardware Australia for another superb industry event.
Hardware Australia
Protecting, Promoting and Supporting You, Your Business & Your Industry.
Hardware Australia is your specific hardware industry body and national voice, formed with the merging of the former State Hardware Industry Associations.
Hardware Australia is run by the Industry, for the benefit of the Industry, with committees comprised of hardware retailers and key industry suppliers who volunteer their time.
SYM-PAC is proud to sponsor Hardware Australia.

SYM-PAC are proud supporters of Hardware Australia and the work they do for the timber and hardware industry. Timber & Hardware Associations for every state across Australia are now incorporated within Hardware Australia.
Visit Hardware Australia at : http://hardwareaustralia.com.au/
Keep up to date ::
Signup to the
SYM-talk newsletter today.
Talk to us today.
We know and understand your business needs.
We know you need to get things done —
faster
smarter
and in more streamlined ways
— with the power to access your trading data easily & quickly, and make critical decisions efficiently based on what's actually going on in your store.
Call us on 1800 796 722 and let's see how a SYM-PAC solution can take your business to the next level.