Our recent installation of the Sympac into G Gay and Co Mitre 10 covered three large footprint Mitre 10 Stores was an absolute success and pleasure. Upwards of 130 staff were trained and inducted on the latest innovations in retail technology, while all-new network infrastructure, server farms, POS, and back-office hardware went live amongst the whole business.
The team at G Gay and Co has embraced the change and taken it on like never before. The whole process of the rollout, including planning and implementation, was a very rewarding experience for all parties involved in a very complex project.
From day one of turning the key with the new Sympac System, it was like it had been in use for the past 20 years with all of the history migrated and available seamlessly.
Sympac has rolled out all of the latest innovations with the G Gay and Co team. From personalised training, complete Finance Integrations and integrated Multi-Store solution that now allows all of the sites to be integrated with real-time access to data.
All of the latest POS and Finance Integrations are now active at G Gay and Co – including Afterpay, ZipPay, Humm, Integrated EFTPOS, SLYP, E'Gift Cards and more, creating a customer experience that is efficient and well up with the times in real-world retailing.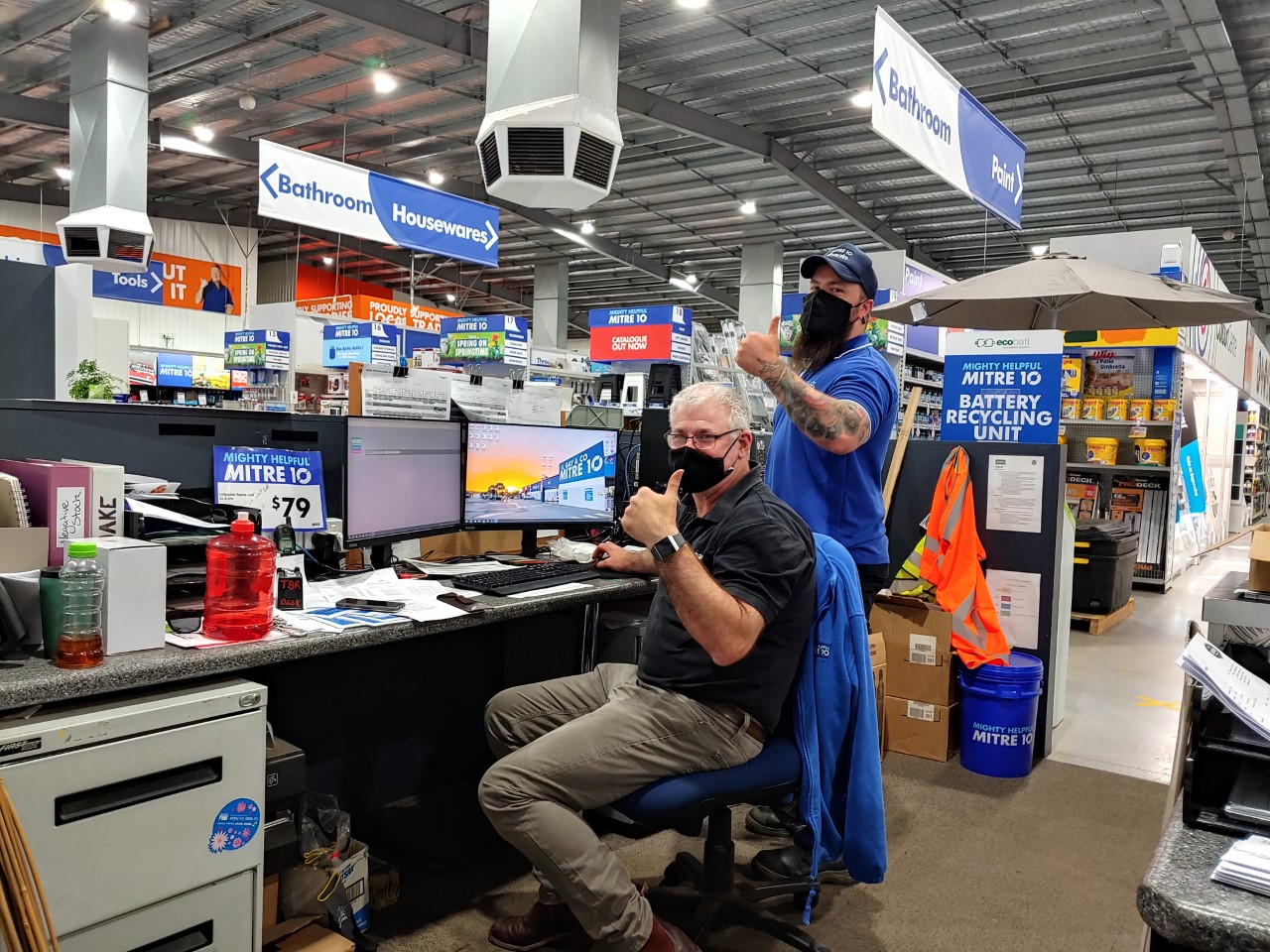 Rob Sheppard and the legendary Jake at the Sebastopol store
Sympac thanks the dedication of the entire G Gay and Co team for making this a success and we look forward to forging an even stronger relationship in the future.
Well done to everyone that has had a part to play in this major project and the great success it has been to date!
G Gay and Co Mitre 10 History

Gay & Co was established in 1918 by Godfrey Gay, who originally sold new and second-hand building materials, timber, and mining supplies. Godfrey was a mining engineer until he took a major change in his career path and started a timber yard in Armstrong Street, Ballarat.
He started by purchasing old houses and demolishing them to sell second-hand building materials. The company later incorporated new materials and phased out second-hand products. The business continued to trade and expand at the Armstrong Street site under the management of Edwin Gay, Godfrey's son. Edwin took over in the Depression days, around 1932. He was a fitter and turner for a local foundry for years before taking on the family business at the age of 35. His son Jim spent six years at the same foundry as his father before joining the business in 1956, at the age of 22.
In 1977 he relocated the business to Howitt Street, Wendouree. Wendouree was a much larger and more accessible premise, which enabled the expansion of the hardware part of the business and provided undercover service in the timber yard. The store now has over 5,000 square meters of undercover showroom and sheds, on a 4-acre site.
It is now a fourth-generation family business with two of Jim's sons, David and Ross now managing the stores. In 1990, G. Gay & Co expanded, setting up a second store in Gillies Street, Ballarat. This store sells the same range of timber, hardware, and building supplies and caters to both Trade and DIY customers. More recently in 2002, Ballarat Building Suppliers in Main Road, Ballarat, a long-established Timber, and Hardware business, was also acquired by G. Gay & Co. Over the 3 sites, the firm now employs more than 100 staff.
In June 2014, G. Gay & Co entered into a joint venture with Mitre 10 Australia. As a result of this partnership, David and Ross initiated a store refurbishment program, the most significant of these upgrades saw the Ballarat Building Supplies business relocating to Sebastopol and the creation of Mitre 10's first "Sapphire Standard" store.
Gay & Co takes pride in being a local family business and aims to provide friendly, prompt, and expert advice to their customers. While a large part of the business is trade orientated, supplying to domestic and commercial builders. G. Gay & Co also offer specialist advice to meet the demands of the "do it yourself" and "owner-builder" markets, with staff experienced in the building industry.