SYM-PAC at the National Hardware Industry Luncheon 2017
On the 31st of March 2017, we were again proud sponsors of the 2017 National Hardware Industry Luncheon event from Hardware Australia.
Held at the Harrison Room at the famous Melbourne Cricket Ground, this year the Luncheon included the inaugural National Industry Rising Star Award.
Clint Field of the Independent Hardware Group, gave an informative presentation on updates and recent developments within IHG.
2017 National Rising Star Award
This year the National Rising Star finalists were James Domaille – Provan's Home Timber & Hardware in Victoria, Richard Norris – Globe Home Timber & Hardware of South Australia, Kate Lawrence – Branxton Home Hardware New South Wales and Shelby Kynock from Pinks Mitre 10 in South Australia.
Ultimately, the National Rising Star Award winner for 2017 announced was Richard Norris from Globe Home Timber & Hardware. Our congratulations to Richard and all of the state finalists — well done.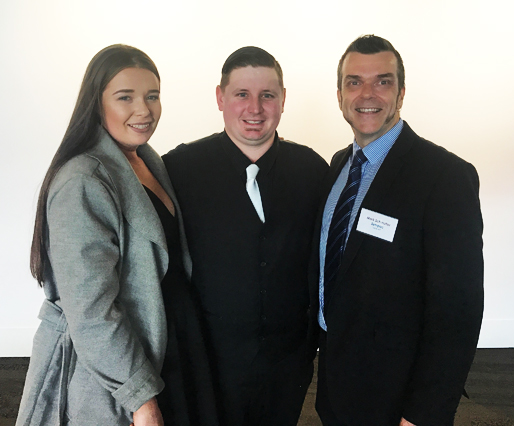 2017 National Hardware Industry Rising Star finalist Shelby Kynock (left), winner Richard Norris (middle) and
Mark Schmutter – SYM-PAC CEO.

For full coverage of the Hardware Australia Luncheon please click here.
Hardware Australia
Protecting, Promoting and Supporting You, Your Business & Your Industry.
Hardware Australia is your specific hardware industry body and national voice, formed with the merging of the former State Hardware Industry Associations.
Hardware Australia is run by the Industry, for the benefit of the Industry, with committees comprised of hardware retailers and key industry suppliers who volunteer their time.
SYM-PAC is proud to sponsor Hardware Australia.
SYM-PAC are proud supporters of Hardware Australia and the work they do for the timber and hardware industry. Timber & Hardware Associations for every state across Australia are incorporated within Hardware Australia.
For more information please visit Hardware Australia.