The Product Dashboard is an interface which brings displays all of the relevant information about a product on a single screen.
It can currently be accessed through F10 More Details in Point of Sale, and in Product Search windows.
Enabling the Product Dashboard
Navigate through the menu:
1. Utilities, Help and Support
2. User Params.
3. System Parameters

Select D Products/Inventory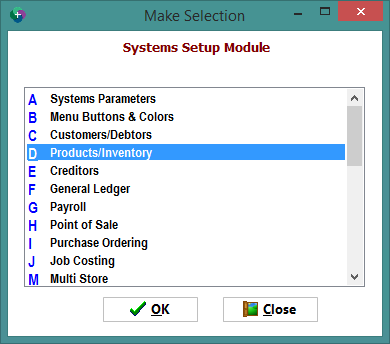 Navigate to:
Client (System)
2. Product Dashboard
3. Check the option 'Enable Product Dashboard'
In this area you can also set up a set of Customer Pricing Records to display in the Product Dashboard. This is a handy feature if you have accounts setup with discounts that you need to frequently review against.