EPG Builder Offer
July 2017
What is the SYM-PAC EPG Builder and what can it do for you?
The SYM-PAC EPG builder is an add-on module for SYM-PAC. The EPG builder can save your business time manually updating and inserting products. It also enables you to provide fast and superior customer service to competitors.
What is an EPG?
An EPG is an Electronic Product Guide.
As a retailer it's critical to have access to the latest product information on thousands of product lines. Including your supplier, buy cost, margin, RRP, product images and more.
SYM-PAC EPG Builder can be used to:
Load and update supplier spreadsheets into a separate product database to your main product database.
Efficiently update your main product database with the latest updates from supplier provided spreadsheets.
Compare the latest product information with information currently in your main product database.
Quickly view and insert products into your main product database from Point of Sale.
What happens when the customer wants a product that is not on the shelf?
Two scenarios:
1. You usually have this product, but are temporarily out of stock. You look up the system to determine when the stock will arrive, inform the customer, and place the order accordingly.
2. Your staff may have alternative product suggestions, in stock, which can be offered as a substitute. In this situation the customer happily walks away with what they came to get.
However, what if there are no acceptable alternatives in stock? The customer does not have a product they came for and you do not have an immediate solution.
What do your staff do?
1. Find a current printed catalogue from the supplier, locate the product details and then ring the supplier to confirm availability.
2. Go to the suppliers website and search for the details and then order online through the stores account portal – if that functionality is available.
3. Ring the supplier to find out the details.
4. Determine whether the product can be ordered and how quickly it can be delivered.
Meanwhile, during all of this – the customer is still waiting at the counter.
Usually $3,220 + GST, SAVE $264.
Includes remote installation and remote training.
SYM-PAC EPG Builder available for only $2,980 + GST.
Including $45.45 + GST subscription per month.
Until the 31st of July 2017.
To order the SYM-PAC EPG Builder for your business call sales today on 1800 SYM-PAC (1800 796 722) or contact us below.
Only setup a supplier once, easily updating new data.
Create a new 'script'.
Link the supplier spreadsheet.
Drag and drop or Automatch columns with SYM-PAC from your suppliers data.
Set your custom business rules (Suggested retail price percentages and rounding rules).
Select Yes to update the EPG and load it straight away.
Load your EPG from Point of Sale by pressing F7 twice – it's that easy!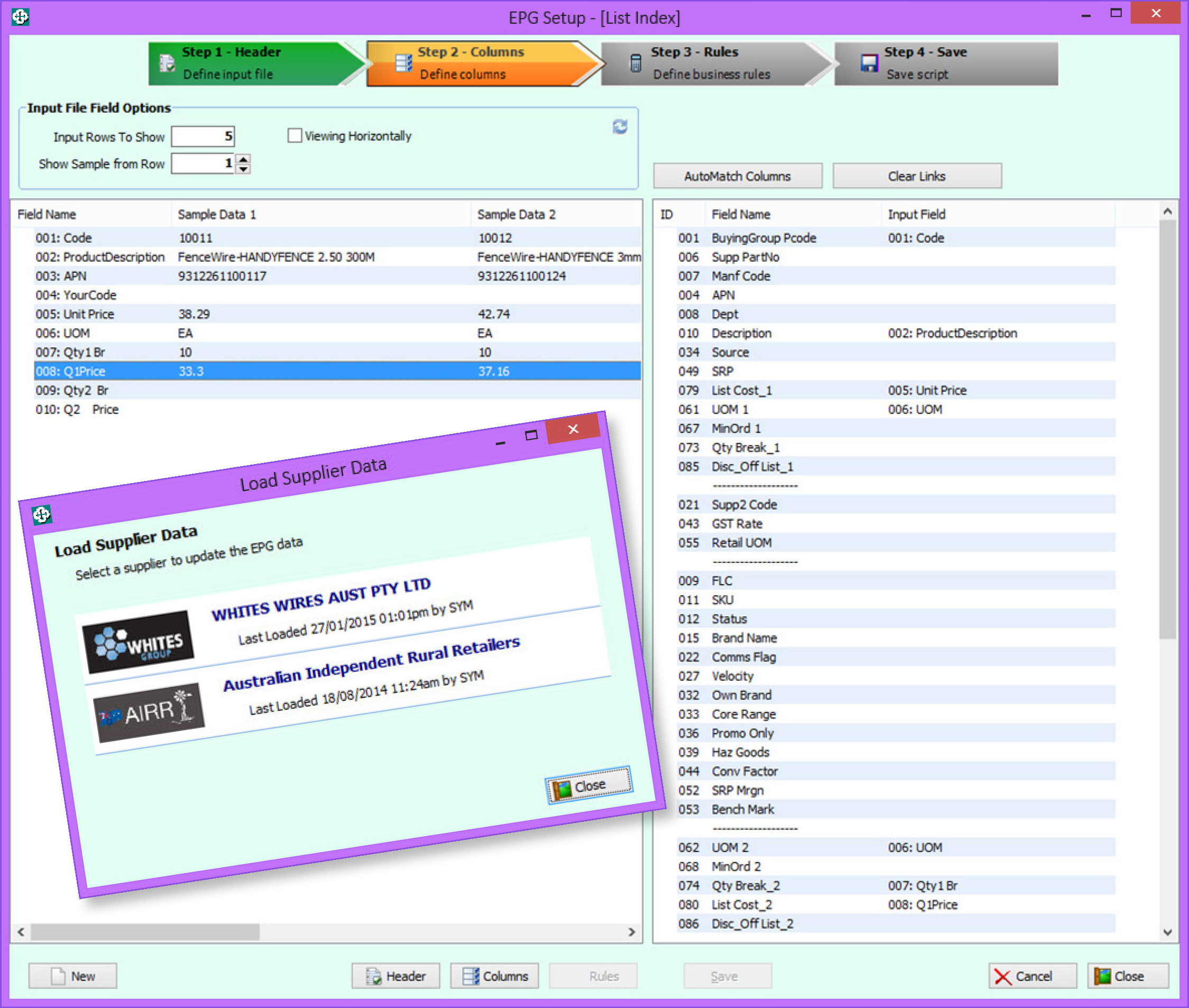 Our strength is in how we make you strong — our business is built on growing your business, your efficiency, your profits.
To find out how SYM-PAC can work for your business, contact us on 1800 796 722.
Signup to the SYM-TALK Newsletter
Join today to get access to our latest news and updates.