End of Financial Year 2017
To ensure that your End Of Month and End Of Year have completed successfully, we suggest that you restart your Main Server in the days leading up to the 30th of June 2017.
This will minimise the likelihood of any issues that may occur when running this process.
The End of Month and End of Year process will run automatically when you run your End of Day on Friday, 30 June 2017.
---
Please note:
If you don't run a standard End of Financial Year please disregard these instructions.
---
If any errors occur:
If you receive an error on the 1st of July, 2017 when starting Point of Sale (POS), or the above steps are not correct, please contact the SYM-PAC Client Services team on 1300 361 732.
We'll be available from 7:00am EST to 8:00pm EST for any assistance that you may require.
---
In order to check if you have successfully run your End of Month and End of Year:
1. Exit out of SYM-PAC after EOD is completed, and then go back into the software.
2. Check the main screen of SYM-PAC, on the right-hand side you'll see a box similar to the one shown here: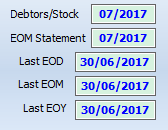 *NB: this screen will be displayed after the EOD is completed on 30 June 2017 once you have exited the software and re-opened SYM-PAC.
3. Ensure the Last EOM and Last EOY , Last EOD fields are all showing 30/6/2017 along with the Debtors / Stock is showing 07/2017.
4. Make sure that the Debtors/Stock and EOM Statement fields are both showing 07/2017.
If these steps are all correct, CONGRATULATIONS — your End of Month and End of Year has successfully completed!