Betta & SYM-PAC announce ERP Solutions Delivery
The BSR Group and SYM-PAC Solutions have announced an ERP solutions delivery project for the group, to be implemented in excess of 200 Betta Home Living stores across Australia in coming months.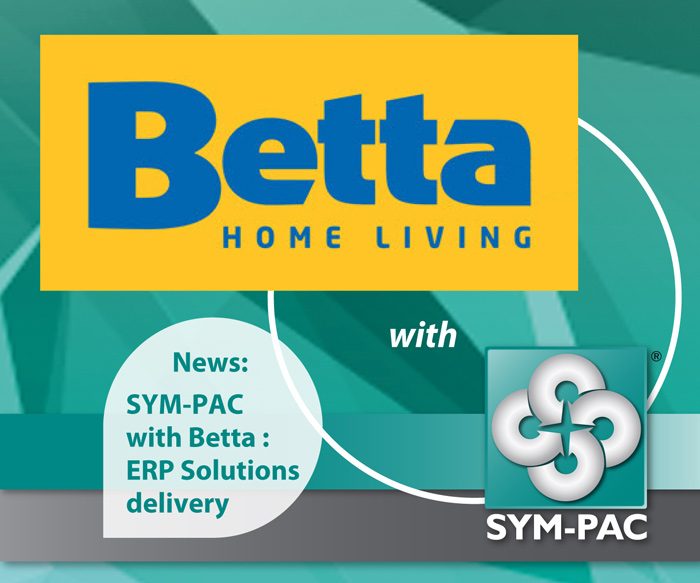 Why SYM-PAC's ERP solution?
Betta's criteria was simple: an ERP solution was required that took into account the practical needs of their retailers on the shop floor — as well as providing mission-critical data to the National Support Office. Easy and fast access to live trading data was an important deciding factor for Betta's Management Team , as ultimately this data allows for strong business decisions to be made quickly upon a sound basis of fact.
Pain removal by SYM-PAC
While Betta's current system has performed very well for them to date in both functionality and stability, features now possible through new technologies have proven difficult to implement in their existing software at the pace required by the business. Betta is keen to ensure they take advantage of new technologies to offer the best possible experience for their customers and that store owners and Betta's National Support Office aren't encumbered by system limitations when managing and driving the business.
SYM-PAC's new FMS (Franchise Management System) for the Group will bring store data together for the National Support Office, creating huge efficiencies for Betta in managing and using the business intelligence generated by the ongoing trading data of over 200 stores. Efficient collation of data allows the business to make more appropriate decisions to shape the customer experience and respond quickly to their needs.
Core criteria identified by BSR
Betta identified a number of important criteria that SYM-PAC will address for the future growth of the Group. These included:
Putting the stores first with an advanced in-store point of sale and ERP system, giving stores full BI (business intelligence) capability with easy access to sales, stock and inventory management, pricing, margin control, full account customer management, and so on.
 National Support Office access to store sales and inventory information, allowing the Group to maximise on their buying power with suppliers.
Streamlined supplier EDI (electronic data interface) allowing fully integrated in-system ordering through to electronic invoice acceptance without the additional transactional costs of a third party gateway.
Full integration of promotions, deals and national collated ordering within every in-store system, allowing fast access at Point of Sale to a whole range of product informations, and easy access to much simpler view of the somewhat complex pricing structure inherent in the industry.

A holistic approach to the needs of the group
SYM-PAC had the runs on the board when it came to analysing the needs of the stores themselves, with over 23 years of delivering retail management solutions to retailers and buying groups across Australia.
Experience in electrical appliance, furniture, and timber and hardware retailing has enabled the new systems to be designed and built to cater for a complex range of products and trading methods.
This experience gives SYM-PAC an innate understanding of the major concerns of stores at shop floor level — going beyond IT and understanding what it's like behind the counter, receipting stock, labelling shelves, managing margins, understanding cash flow fundamentals, and all of the other day to day responsibilities that retailers have to juggle!
SYM-PAC's Betta Solution
SYM-PAC's contribution is to provide an enterprise wide solution that brings together all the operations of Betta's business into a fully integrated system.
Franchise Management System (FMS) — at the National Support Office
Stores' Retail Management Requirements (iRMS) — in the stores
New web-based utility product developed by SYM-PAC to provide a means of portable information enquiry and decision making on a multitude of devices.
Delivering BI for results on the shop floor & online
As a retailer, you need to know everything all the time! OK, it feels like that — but what you really need is the assurance that you have instant access to information that allows you to make the best decisions — fast!
Results from last year / last month / last week?

✔

 Check.
What were our best sellers last Christmas? 

✔ 

Check.
What was the GP on that promotion last month?

✔

 Check.
What is the GP running at for our current promotion?

✔

 Check.
Inventory functions such as live stock availability checking will be accessible across the network, regions, and within a determined group of stores.
Betta's online presence will be fully integrated with the SYM-PAC system, delivering a very smooth result that successfully marries the Group's online branding with SYM-PAC's powerful database functionality and inventory management know-how.
SYM-PAC have also facilitated full access to Betta's valuable trading history, built up over time prior to the SYM-PAC system. This means Betta can make smart and timely business decisions based on factual evidence, to achieve the best results possible for store purchasing, pricing and overall performance. Many new systems wouldn't have been able to leverage data generated prior to their system. This data is one of Betta's valuable assets.
The team at SYM-PAC have achieved amazing results in applying their BI reporting tools to this data making it feel like Betta have been on the system for years.
— Shane Harris, Group Operations Manager, BSR Group
Mission-critical National Support Office imperatives
SYM-PAC's system will deliver negotiating power to Betta's Head Office like never before. Betta will have instant system access on-screen to the supplier's best sellers, as well as the worst performing products.
This will improve Betta's ability to get the best cost-prices possible for the stores in their Group — strengthening the results for each store and creating success for the Group as a whole.
SYM-PAC's FMS for Betta National Support Office will provide a dashboard-type functionality to view the results of the Group as a whole, with access to transaction-level detail.
KPI information for Betta will be available on both in-house and mobile systems, across the Group.

Development methodology
SYM-PAC takes an agile approach to solutions development with analysis, design, development and testing occurring continuously throughout the project's development. This method delivers huge benefits in terms of flexibility of design, and allows SYM-PAC to continually take into account the needs of users while building their solution.
Implementation rollout
Betta's National Support Office already has SYM-PAC's FMS staging system in place for ongoing review and daily use by key staff, and it's this FMS which forms the core delivery for the project. In addition, a complementary process is in play with Betta's staff using a new web-based utility product developed by SYM-PAC to assist stores with the process of data cleansing prior to conversion.
With the National Support Office systems being implemented right now, the Betta pilot stores' implementation will follow shortly after Easter, with all stores planned to be up and running with an aggressive rollout plan over coming 12 months.
Ongoing support mechanisms
Also currently in place in Betta's National Support Office Help Desk is a live SYM-PAC Customer Support system. Built from the experience of the internal system SYM-PAC uses for its own Help Desk requirements, Betta's staff can log, track, and escalate service requests. They can, identify and classify issues, and diagnose and deliver solutions to store problems — tracking resolution progress and full reporting analytics each step of the way. Stores within the Group can even log service requests directly into the system from their store and receives emailed updates on the progress of their request as the Help Desk Consultant updates the job in the system. This gives end users far greater visibility of the progress of their request.
Brand support for Betta
SYM-PAC's FMS for Betta will provide a consistent look and feel UX (user experience) across all modules within the system, which helps to make the system easier to learn and use for store management and staff.
The UX supplied by SYM-PAC will reflect the Betta store branding, and will complement their in-store look, helping users to take pride in using the system as part of their brand — and reinforcing the strength of the brand while the system helps stores to deliver a fantastic customer experience.
The Betta branding will also be supported through the full integration of the "Club Betta" group loyalty program, and will allow any Club Betta customer to be recognised at any Betta store, again fulfilling customers' expectations from the loyalty program.
In effect, as with any organisational system implementation, change management through the process will be a key part of the success criteria.
SYM-PAC Solutions has provided systems & services to independently owned, franchise, and buying group appliance retailers, timber & hardware retailers, building, construction & industrial suppliers, rural merchandisers & farm suppliers, camping & outdoor industries for over 25 years.

SYM-PAC is Australian Made.

Speak to SYM-PAC on 1800 SYMPAC | 1800 796 722.
The BSR Group represents over 200 appliance retailers across Australia, with a strong history dating back to its beginnings in 1961 when it was started by a group of appliance retailers in Brisbane. To visit Betta, go to www.betta.com.au